Free memory pairs matching game for adults hard level: Emoticons
Flip the cards to see the pictures and start playing with this free memory game for adults and seniors. The Emoticons online memory match game. Spending 10-15 min a day doing these activities are actually helping out with the memory issues. Join us now and embark on an exciting journey of mental stimulation and entertainment.
Online memory game hard level with 30 cards: Emoticons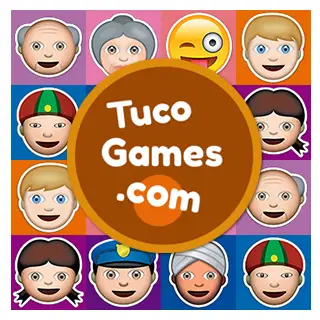 The collection of emoticon faces featured in our online and free memory game for adults and seniors is designed to be fun, engaging, and visually appealing. Each emoticon represents a unique expression, adding a layer of excitement and challenge to this activity. Playing our free memory game for adults is not only an enjoyable pastime but also a valuable mental online exercise. By challenging your memory and concentration, you are actively working on enhancing your brain abilities. The online and free matching pairs game for seniors and adults tests your ability to remember and match emoticon faces, requiring focus, attention to detail, and quick thinking.
Online memory matching pairs game for seniors easy level: Famous faces
Our online and free brain exercise for adults and seniors with emoticon faces is a delightful and engaging experience that you can enjoy on any device. We take pride in offering the best memory games with the most entertaining and captivating images. Whether you're playing on a computer, tablet, or smartphone, our free matching pairs game for seniors and adults provides a seamless and enjoyable online gaming experience at no cost.
Free memory game for adults Medium level with 20 cards: Impressionist paintings
At our company, we are committed to delivering high-quality exercises for adults that are enjoyed by players all over the world. Our team of professionals works tirelessly to ensure that our memory game meets the highest standards of quality and provides an exceptional gaming experience. From the carefully selected emoticon faces to the seamless gameplay every aspect of our online activity is designed with precision and professionalism. Enjoy the best online memory matching pairs games for adults.
Online memory game for adults Hard level with 30 cards: Renaissance faces
Don't miss out on the opportunity to exercise your brain, have fun, and improve your memory for free. Play and enjoy the best memory game for adults and seniors.