Online matching game for adults and seniors: Impressionist paintings
How is your memory for faces? Flip the cards to see the pictures and start playing. Online and free memory game specifically designed for adults and seniors, featuring famous impressionist paintings' faces.
Free Memory matching card game medium level with 20 cards for adults: Impressionist paintings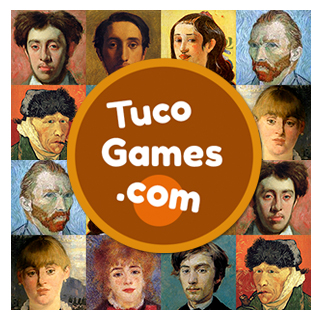 The collection of famous impressionist paintings' faces featured in our online memory game for adults and seniors is carefully selected to be fun, engaging, and visually appealing. Each face represents a masterpiece of the impressionist era, adding an artistic touch to the free game. As players progress through the levels, they will encounter a variety of faces from famous paintings, each one more captivating and recognizable than the last.
Free memory game for adults Hard level: Renaissance paintings' faces
Playing our memory game for seniors and adults can offer numerous benefits for the brain. It stimulates memory recall, enhances concentration, and improves mental abilities. By challenging oneself to remember and match the faces of famous impressionist paintings, players exercise their memory, attention to detail, and pattern recognition skills. As they continue playing online, they will notice improvements in their memory retention and brain functions.
Online memory matching pairs game for adults Medium level: Vegetables
We understand the importance of delivering a user-friendly online gaming experience to players of all ages and technological proficiency. Our free site interface is designed to be intuitive and easy to navigate, ensuring that players can fully focus on the gameplay without any distractions. The controls are user-friendly, making it suitable for senior and adult players of all skill levels.
Memory matching card game for seniors Easy level with 16 cards: Donuts
Our online and free brain exercises for seniors have gained significant popularity and are among the most visited and popular online matching pairs games. We take great pride in continuously working with professionalism to offer high-quality free games that captivate players worldwide. Our team is dedicated to delivering an exceptional online gaming experience for adults and seniors. This online and free activity featuring faces of famous impressionist paintings is an excellent way for adults and seniors to exercise their brains and have fun simultaneously. Enjoy for free our funniest online memory matching games for adults.