Online memory matching game for seniors with 16 cards: Farm animals
Play the best online memory games for adults and seniors. Here you can indulge in the exciting world of this brain exercise with adorable farm animal images. We offer a wide range of free matching card games and mental exercises tailored for adults and seniors.
Improve Mental Health and Memory with these great free games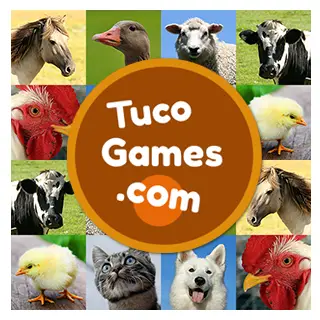 Our free memory games for seniors and adults feature captivating farm animal images that will charm and engage you throughout the gameplay. From lovable cows and sheep to mischievous horses and chickens, the vibrant visuals are sure to capture your imagination. Each image is carefully designed to ensure clarity and visual appeal providing a delightful free experience for players of all ages.
Online memory matching pairs game for adults Medium level: Jungle animals
What sets our online memory matching pairs games for adults and seniors apart is the meticulous craftsmanship and attention to detail. We have developed these free activities with utmost professionalism, ensuring smooth online gameplay and an intuitive user interface. We understand the importance of delivering exercises that are not only free entertaining but also easy to navigate, so you can focus on the fun and challenge of matching those pairs. These free activities help improve concentration, focus and attention to detail. By regularly engaging in online memory exercises you can strengthen your mental abilities and maintain brain acuity.
Free matching card game for adults Hard level with 30 cards: Symbols
Best of all, our online memory games for adults and seniors are completely free to play! We believe that mental exercise and entertainment should be accessible to everyone. So whether you're a busy professional looking for a quick brain boost during a break or a senior seeking engaging activities to keep your memory active our exercises are the perfect choice. Playing online matching card exercises is not only an enjoyable pastime but also a beneficial mental exercise.
Online memory game for seniors Easy level with 16 cards: Peanuts images
Free memory games are not only for kids. They are excellent tools for adults of all ages who want to keep their minds sharp and enhance their brain skills. Whether you're looking to challenge yourself or simply have some fun, our online activities offer the perfect solution. Enjoy the most beautiful online memory games for adults and seniors.