Brain memory games for adults online * Jungle Animals
Welcome to Tuco Games, the ultimate destination for the best online memory games featuring captivating images of jungle animals. We pride ourselves on delivering professionally crafted free matching pair exercises for adults and seniors that guarantee a high-quality gaming experience.
Increase your memory skills with these wonderful online games for adults and seniors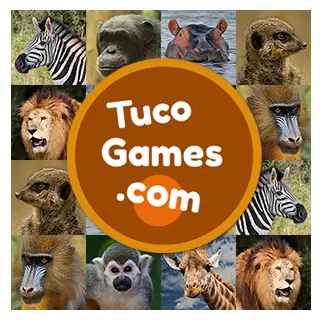 Discover the vibrant world of the jungle as you explore our online and free brain exercises for seniors and adults. Each free activity is carefully designed to captivate your attention and provide an enjoyable experience. With stunning images of wild animals from the jungle you'll feel transported to an exotic and enchanting setting while you exercise your memory.
Online memory matching pairs game for adults Hard level: Symbols
Online memory games are not just a source of entertainment; they also offer numerous health benefits particularly for adults and seniors. Engaging in brain exercises regularly can help improve mental abilities, enhance concentration and boost memory retention. It's a fun and interactive online way to keep your brain active and maintain mental agility.
Free matching game for adults Medium level with 20 cards: Movies #3
To cater to different skill levels and preferences, our free memory games for adults feature three difficulty levels. The easy level for seniors offers 16 cards to match and pair providing a gentle introduction to the online game. The medium level online game introduces 20 images adding a bit more challenge to the gameplay. For those seeking a real mental workout our hard level for adults offers 30 cards pushing your memory skills to the limit.
Online memory game for seniors Easy level with 16 cards: Peanuts images
Our commitment to delivering high-quality memory games for adults remains unwavering. We value your satisfaction and strive to provide you with the best gaming experience possible. Whether you're looking to relax, challenge yourself or simply have fun our online brain exercises for seniors are the perfect choice. With our secure online platform you can enjoy these exercises for free from any device ensuring convenient access for everyone. Remember, our memory games are not only free but also safe and secure. Get ready to exercise your brain and have a wild time with our jungle-themed online memory games for seniors and adults. Start playing today and embark on a thrilling adventure through the jungle, all from the comfort of your own device with the coolest free memory matching pair games for adults.