Free Memory Card Matching Game for Seniors easy level: Horses
Online memory matching game for adults: Horses. It's a free card game with a medium level of difficulty, featuring 16 images. Play and train your mind by finding the corresponding pairs for each card and enjoy the daily benefits of this free memory exercise.
Online pair matching memory game for seniors: Horses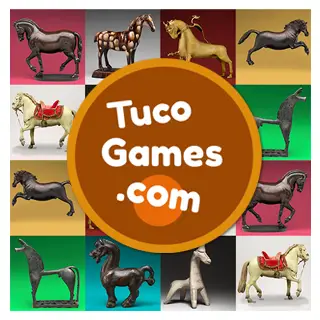 Experience free brain training with illustrated cards showcasing artistic creations inspired by horses from the New York Metropolitan Museum. This ensures that the online exercise of memory is both enjoyable and of high quality. On our free website, dedicated to online memory matching pairs games for seniors, our goal is to create the most entertaining activities. The purpose of this free activity is to match pairs with the cards in order to complete the screen in the free matching games for adults and seniors. Playing online and exercising daily provides incredible benefits for adults and seniors, helping to combat the effects of aging on the mind.
Online memory game for adults medium level with 20 cards: Hats
Working on the mind with our online matching card game for seniors is just as important as working on the body. Therefore, in order to create more and more challenges to hinder the cognitive deterioration that is characteristic of the elderly, it is important to engage in exercises that keep the brain in shape. These free card matching memory games for adults present small challenges that our seniors will have to overcome. These online challenges will motivate them and help improve their mental state while having a fun time for adults and seniors.
Free matching pairs game for adults hard level with 30 cards: Chairs
Our online collection features the most popular and widely played memory games from around the world. We have carefully selected each activity to ensure it meets our standards of professionalism and offers an enjoyable and rewarding experience for adults and seniors. Whether you are a beginner or an experienced player, our online games cater to all skill levels, allowing you to progress and challenge yourself at your own pace.
Free memory matching card game for seniors and adults: Monuments
Our website is designed to be user-friendly and accessible from any device. Whether you prefer to play on your computer, tablet, or smartphone, you can easily access our memory exercises and start training your memory wherever you are. Here, you will find the most original online memory games for seniors and adults.