Online memory game for adults Medium level: Movie Pictures
Online memory matching game with classic movie images. Whether you're an adult or a senior looking to sharpen your mind, our collection of memory activities and mental exercises is designed to provide you with hours of entertainment and mental stimulation.
Play The Free Movie Pictures Match Games for adults to improve your memory online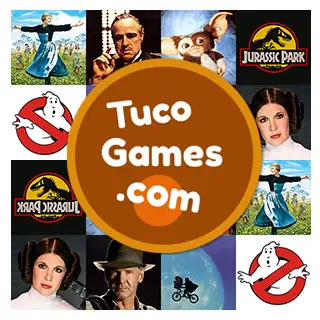 We're sure you'll recognize most of the films we've chosen for the free memory matching pairs game, but in case you have lost a name, these are their titles: The Sound of Music, The Godfather, Gremlins, Jurassic Park, Jaws, Ghostbusters, E.T., Indiana Jones, Star Wars and Back to the Future. Dive into the world of online memory games today and start challenging your brain while enjoying movie pictures and engaging gameplay.
Online memory game for adults Hard level with 30 cards: Dogs images
Our free website features a wide range of brain exercises, suitable for adults and players of all ages. From classic movie images to animal pictures, you'll find something to suit your interests and keep your brain sharp. With new activities for adults added regularly we are constantly expanding our collection to bring you even more exciting options for free and online mental activities for adults and seniors.
Free memory matching game for adults Medium level with 20 cards: Movies #3
Memory games for adults and seniors are currently trending, and for good reason. With the rise of digital entertainment, online and free memory activities have become a popular choice for individuals seeking both fun and mental exercise. Whether you're playing online on your computer, tablet or mobile our website offers a seamless and enjoyable gaming experience. Our team of talented designers works tirelessly to create the best free brain exercises available, ensuring that each online activity for adults and seniors is visually stunning and enjoyable to play.
Online matching pairs game for seniors Easy level with 16 cards: Kitchen objects
}Tuco Games boasts a wide variety of themes and beautiful images ensuring that there's something for adults, seniors and everyone. Whether you're a fan of classic Hollywood films or prefer the charm of Japan images, our free memory matching pairs games offer a visually captivating experience that will transport you to different eras and worlds. Discover the joy of exercising your brain with our top-rated free online memory games for adults.